Decent Work and Economic Growth SDG 8- Vee is for Volunteering
Volunteering at the tip of your fingers! A new start up from Israel, Vee, is changing the volunteer landscape and creating companies that are geared towards giving back. With the Vee platform (that's raised over $13.5 in funding to date), it's easier than ever to find a social cause to support and lend a helping hand.
A start-up that helps promote decent work for its own employees, as well as meaningful and rewarding work for the companies and nonprofits that take part in the platform, Vee is helping Israel achieve SDG-8 and SDG-11 – giving purpose to decent work and economic growth and advancing the important mission of so many nonprofits focused on sustainability and green cities. In fact, all SDGs are supported by Vee, given the wide diversity of causes within their nonprofit community.
Vee, which features over 1,000 nonprofits and is active in 10 countries, provides options for volunteering in areas such as food, aid, animal welfare, education, environmental initiatives, and more. They also feature skill-based volunteering opportunities, allowing nonprofits to receive critical support for their operations. The variety and personalization enables Human Resource teams to easily find, coordinate, and share charity events with their team.
In addition to volunteers, nonprofits that join Vee can benefit from their Nonprofit Community, where they are given access to resources, networking opportunities, giveaways, and more, all for free.
Soledad Haren, Founder & CEO of a NYC-based nonprofit called Build a Better Planet, says "Vee has been an invaluable asset, linking us to a global community of volunteers who share our passion, as well as resources to achieve growth."
The company, founded by 22-year-old May Piamenta, came about after she saw the need to connect nonprofits to companies she knew of, but there wasn't a platform to do so. Piamenta knew that many companies are looking for nonprofit partners to volunteer with, but don't have a means of discovering relevant causes. She founded Vee after fundraising herself for six months.
From her early teen years, Piamenta was active in volunteering, and even led an international nonprofit initiative with millions of volunteers across 32 countries. It was that experience that led her to realize that traditional management tools were unscalable, and too bureaucratic to streamline the volunteering process.
According to May: "We built Vee to give everybody around the world a better way to make a social impact and help achieve the SDG's. I am excited to see how Vee becomes far more than a product but a global movement of people who want to pay it forward. It's only a matter of time until Vee will be the benchmark of social good for every company, university, city, and every person, everywhere."
In an era where community service and sustainability is a core value of many companies, Vee fulfils a much needed demand of easing the volunteer process – and as a result is making critical nonprofits more successful.
Platforms like Vee also provide opportunities for individuals at companies and on their own to broaden their skillset, and develop professional education to better equip them, at any stage of their professional career, to pursue decent work. The Vee platform brings its volunteers one step closer to achieving SDG-8.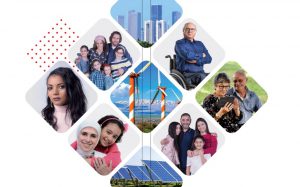 Decent Work and Economic Growth In 1961 former US President John F. Kennedy coined the guiding principle of public activity to this day "Don't ask
Read More »
Decent Work and Economic Growth In Israel today there are approximately 60,000 caregivers employed, of which 80% are woman. These caregivers were actually sought out
Read More »
Decent Work and Economic Growth Harnessing the Power of the Crowd – for Lending Peer-to-peer lending, or crowdlending, has taken off in Israel. This relatively
Read More »