 Equal Opportunity for Israeli Arabs
The Arab community in Israel has undoubtedly been underserved since the establishment of the State. But the winds of change have been blowing in the direction of equal opportunities for a few years now, and progress is tangible.
Government Resolution 922 – an unprecedented five-year economic development plan for Arab society – has made significant inroads in several areas of Arab life, including education, employment, transportation, water and sewage, and internal security. The sum total of the monies allocated to assisting the Arab population (including Bedouins and Druze) amounts to NIS 15 billion.
In higher education, the number of Arab students in 12th grade who were eligible for a full Matriculation ("Bagrut") certificate rose from 58.6% to 62% since the implementation of GR-922. And the number of 12th graders studying the highest level of math ("5 points") has risen to 10%, up from 7.2% of Arab 12th graders. The numbers of Arab students in higher education institutions have all increased in recent years for first-degree (17% are Arab), second-degree (14%) and PhD students (7%). These numbers represent the goals that were expected to be reached by the year 2022. For female students, the number of Arab women studying for a first-degree has increased from 40% in the 1990s to two-thirds today.
A new Arabic language proficiency exam that sets higher standards for future teachers is now routinely given. Pre-academic training for future Bedouin teachers (including training for their trainers), enhancement of Arabic language training, pedagogy, and academic support, and additional training components for teachers of all subjects and all grade levels are all offshoots of GR-922.

For elementary schools, NIS 500 million was allocated in order to provide 31,000 additional teaching hours in math, Hebrew and Arabic. On top of that even more hours were added for schools in weak Arab communities, together with existing measures to support weak communities. The Ministry of Education has added programs to strengthen the level of science and math education for Bedouins in the southern region. The resolution also includes plans to construct more classrooms and renovate schools that are overcrowded or have fallen into disrepair.
In employment, thanks to NIS 55 million allocated for subsidies to employers for hiring Arab professionals, the government estimates that 1,800 new Arab employees have been hired in recent years. In high-tech alone, government subsidies for Arab employees comes to NIS 4 million. Around 6,000 small and medium businesses have received government assistance in the form of consultation hours and training seminars. Additionally, new business centers operating in Arab towns have provided office space and tools to local businesses. Hybrid, a high-tech accelerator has been working to promote startup initiatives. To encourage female entrepreneurs, micro-loans have been granted to around 1,000 Arab women. Concurrently the office of Equal Employment is working to combat discrimination in the workplace.
In transportation and road safety, following the increase of bus services in Arab municipalities, there has been a significant rise in the number of public transportation users in Arab communities. Dozens of new bus lines have been opened, improving frequency and geographical coverage of the existing bus lines.
In the area of water conservation, more water purification plants have been constructed. With regard to sewage, there has been a rise in the number of Arab municipalities connected to professional sewage services.Land redemption programs are being funded for the development of the Arab sector, and "Toto" funds are being allocated for the construction of Arab community sports centers.
Finally, insofar as internal security is concerned, around 1,350 Arab police-station recruits have been hired – including 32 Muslim women – since GR-922, and more than 300 Muslim-Arab police officers have been recruited. Existing police stations have been upgraded and twelve new police stations have been established in some Arab municipalities.
So while more ground still needs to be covered to attain equal opportunity, Israel's Arab community is now well on its way to integration and empowerment.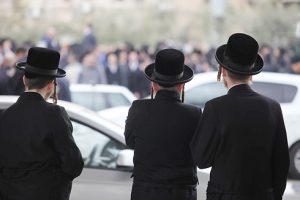 Reduced Inequalities There are about 830,000 Ultra-Orthodox Jews living in Israel, which comprises about 11% of the total population, and nearly 59% of Ultra-Orthodox families
Read More »
Reduced Inequalities With the ongoing efforts in Government to foster integration and equality among Israelis of Ethiopian descent, there is a vast amount of Israeli
Read More »
Reduced Inequalities Chava Rothstein and Pablo Kaplan were two business professionals at the top of their game in the corporate world when they decided it
Read More »