Decent Work and Economic Growth SDG 8-OGEN: Giving the Disadvantaged An Equal Opportunity
"Life is a loan, and the interest is good deeds." – OGEN Founder Eliezer Jaffe
The COVID-19 Pandemic had a devastating impact on the ability of millions of people to find gainful employment. One of the biggest barriers to decent work and economic growth, the UN's SDG-8 (Sustainable Development Goal), is that specific industries such as tourism were hit hardest, cutting income for millions. When crises arise, it becomes all the more important for innovation to overcome the setbacks economically.
Organizations like OGEN (formerly the Israeli Free Loan Association) are critical to paving the path out of recession and improving SDG-10, reducing inequalities in society. OGEN creates opportunities and acts as an economic lifeline to foster ingenuity and creative ideas for the most disadvantaged in society, in particular, new immigrants.
Working with the disadvantaged
OGEN, founded in 1990, provides low interest credit to disadvantaged sectors of Israeli society. Since its inception, they have lent over $350 million to Israelis in need for small business ideas and families in need. Their goal is to promote upward social mobility to create decent work and economic growth, SDG-8, for all sectors of society.
Through offering financial guidance, mentorship, and low or even no interest credit, OGEN empowers immigrants and lower socioeconomic classes to pursue their business ideas, and assists first time homeowners.
OGEN's Reach
OGEN has a number of innovative financial solutions for creating sustainable economic growth and bridging economic gaps. At its inception, OGEN began with the Free Loan Fund, which provides $53 million in interest free loans to those in need. Incredibly, the loans have a repayment rate of 99.3%.
Recently, they launched the OGEN – Israel Social Loan Fund, which is an impact investment fund providing loans to small businesses, first-time homebuyers and non-profit organizations, on a low-interest, non-profit basis. This fund is also currently in the process of obtaining a banking license and establishing the first non-profit bank in Israel and one of the only of its kind in the world.
OGEN also has two unique mentorship programs to help the public achieve SDG-8. The Keren-Shemesh mentorship prgram which matches senior business executives with small business owners, and the Ogen La'bayit, a team of financial experts who assist first-time home buyers.
Looking to the future
Today OGEN has two programs in the works, Crowd.il which is a micro-investing peer to peer lending platforms, and the Israel Social Bank which will be the first of its kind bank to provide low interest loans and banking services with no commercial shareholders.
By assisting the public to bridge gaps in financial knowledge and planning, as well as empowering the public with capital when needed, OGEN is making SDG-10 and SDG-8 more realistic each and every day on the ground in Israel.
Decent Work and Economic Growth It's entirely reasonable to think that with Israel's Government in transition, activities to promote diversity and inclusion have come to
Read More »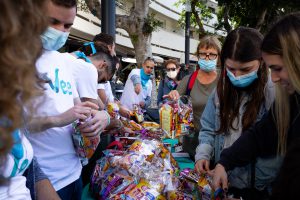 Decent Work and Economic Growth Volunteering at the tip of your fingers! A new start up from Israel, Vee, is changing the volunteer landscape and
Read More »
Decent Work and Economic Growth In Israel today there are approximately 60,000 caregivers employed, of which 80% are woman. These caregivers were actually sought out
Read More »